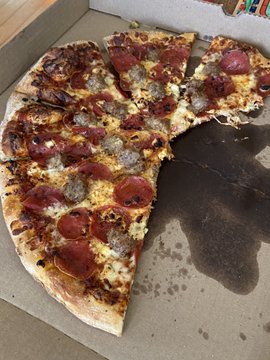 Pepperoni, Feta Cheese, and Sausage! What a pizza it was from The Roman Candle Pizzeria of Madison!
What made the pizza even better was watching March Madness and eating the pizza with great friends of the podcast, Andrew Lindstrom and Emma Langer!
Summing up the voting in my own words is simple: straightforward.
Taking a guess before would leave no surprise that the top 4 seeds made the Fresh 4. There was only 1 topping seeded 10 or above that advanced into the Exceptional 8. Honestly, I am selfishly sad that there was not an upset run coming from any number of toppings.
Now I will deliver you with some statistics on the "tournament"!
The decided by total votes pizza tiers, bracket by Mr. Noah Jacobs.
S-Tier: Pepperoni (226), Cheese (199), Sausage (191).
A-Tier: Pineapple (152)
B-Tier: Bacon (103), Garlic (97), Ham (89), Chicken (88), Onions (86), Basil (83), Jalapenos (83)
C-Tier: Spinach (66)
D-Tier: Mushrooms (42), Tomato (42), Green Peppers (37), Black Olives (35)
F-Tier: Banana Peppers (23), Green Olives (21), Cinnamon (17), Egg (15)
This does not align with exactly how I would categorize these toppings by tier, but, this is based on total votes. I would be incorrect not to mention that some toppings had the advantage of a play-in match-up, putting many toppings that lost in the opening round with a better seed (Egg) to be well behind.
Here is what is awesome:
Over Twitter and Instagram, we received a total of 1695 votes! We somehow stayed on time with our polls, and the pizza was ordered on a Saturday, one day after the conclusion of the bracket!
I am really glad for those of you that voted, and I hope that we have more toppings, more votes, and more fun with the next bracket!
-Jacobs, Noah