We are in the midst of the 3 month "hell-on-earth" part of the calendar here in Michigan: December, January, & February.
Where the sun goes down at 5 PM and it's officially cold as balls outside all the time. It's a small price to pay for what is otherwise, a pretty damn good 9 month run here in Michigan and arguably, the best summer of any state, across the country.
But just when I thought hell couldn't get any worse, a pandemic was dropped on our heads and now we can't even go out to bars, meet with friends, or any other form of social activity that makes the winter tolerable.
Due to this, I am officially past the cabin fever part of the winter and am on the brink of full blown insanity. Just the other day, I drove 30 minutes to Chick-Fil-A, just to wait in the drive through line for another hour before getting my food. That's how bored I am nowadays. Oh and afterwards, I played board games to pass the time before falling asleep. Yep, Fats' here is down pretty bad, to the point where really the only thing keeping me going is the upcoming golf season (now that I think about it, if golf is the only thing keeping me going, maybe I'm worse off than I previously thought).
Last spring/summer/fall, golf reached peak popularity due to the lockdown restrictions and the fact that it was the only thing you could do outside that didn't involve: Walking your dog, mowing your lawn, or just going for a walk.
Because of this, there have never been more golfers and golf courses have never been this busy. Around June or July, this became a serious problem that nearly turned me away from the game of golf, for good. Due to the influx of… how can I put this nicely, "rookie" golfers, golf became an outdoor version of the Secretary of State. You would hit one shot, then watch for the next ten minutes as the group ahead* of you took their sweet ass time on the green. And now, golf is on the brink of a pandemic itself in the form of this new-wave of golfer.
*I never thought I'd be the old geezer wearing the goofy pants and a bad attitude at a golf course, but rookie golfers are the worst. They don't understand common courtesy on the course: They don't wear shoes (Yes, I saw this 3 different times this past season), they have no sense of urgency when you are waiting on them and worst of all… they don't know that if they are holding up the group behind them, that they are supposed to let you play through. It got to the point this past year where I walked off the course (without a refund) after the group ahead of me, made up of (1) guy wearing a Uncle Sam Patriotic top hat, (2) guys in flip flops, (2) girls who were just learning how to play golf for the first time, and (1) total douchebag who felt the need to take 4-5 practice swings before each shot.
However, I think this upcoming summer is poised to be the best year for golf thus far — Because the jackasses who were out last summer will have other things to do without a lockdown restricting them and the people who fell in love with golf last year and aren't "jackasses" are now apart of the golf fraternity, for good.
It's because of people like this that I have decided to create a (running) list of my favorite courses that I have played. I often get asked what my favorite course is or what my thoughts are on this course or that course, so I figured I'd create this list so that when I am asked such questions, I can give people more than "yeah, that course is pretty fun, you should play it."
The idea for this list is that it will only be Michigan golf courses (third most golf courses in the country), so that the bulk of our listeners/readers can play all the courses I mention. Not only that, but the courses on this list will all also be reasonably priced courses ($100 or less) that the average golfer can afford to play.
Alright, let's get into the list already, shall we? Unless, you are that jackass wearing the Uncle Sam Patriotic Hat at Corunna Hills in the middle of July that wouldn't let me play through and nearly ruined golf for me, you can fuck off.
Honorable Mentions:
Corunna Hills (Corunna):
This course will always hold a special place in my heart as my "home" course, but due to the lack of 18 holes, I can't in good conscience put this course in my top ten. I truly believe that if this course was 18 holes, it would be the best public course in the county, but it doesn't.
With that being said, I love this course: It's a great 9 hole track with absurd greens that you won't see anywhere else and it's (almost) always well kept and as (@brandoncrouse) says, "Friday night Happy Hour rounds hit different here."
Glenbrier (Perry):
This course is one you either love or hate: It's difficult, reasonably priced, well managed, and fairly scenic for it's Mid-Michigan location. But it has its detractors who don't like some of the gimmicky holes that take the driver out of your hands or some of the greens that if Satan was a course architect, he'd love.
But as someone who prides himself on his accuracy and short game, this course is a great equalizer for golfers who are sick of wide open (little punishment for errant drives) styled courses that have become more and more prevalent nowadays. This course forces you to think and hit shots you rarely practice at other courses and for golfers who only know how to hit bombs or can't handle adversity, this course is hell. But for people who enjoy a challenge at a reasonably-priced-well-kept course, this one's for you.
10.) Brookshire (Williamston):
Billed as a "bomber's paradise", Brookshire is everything casual golfers hope for in a course: Easy greens with hole locations that make birdies likely. Scenic holes that feel reminiscent of "Up-North" golf filled with trees and water. The course also features numerous blind tee shots and interesting hole set-ups that break up the monotony of long par 4's and 5's.
I'd compare this course to Glenbrier (around $30-40 value), but it's the pretty sister of the two. Where Glenbrier lacks, Brookshire exceeds and being separated by only 8 miles, I'd strongly urge people to play Brookshire instead of it's uglier little sister.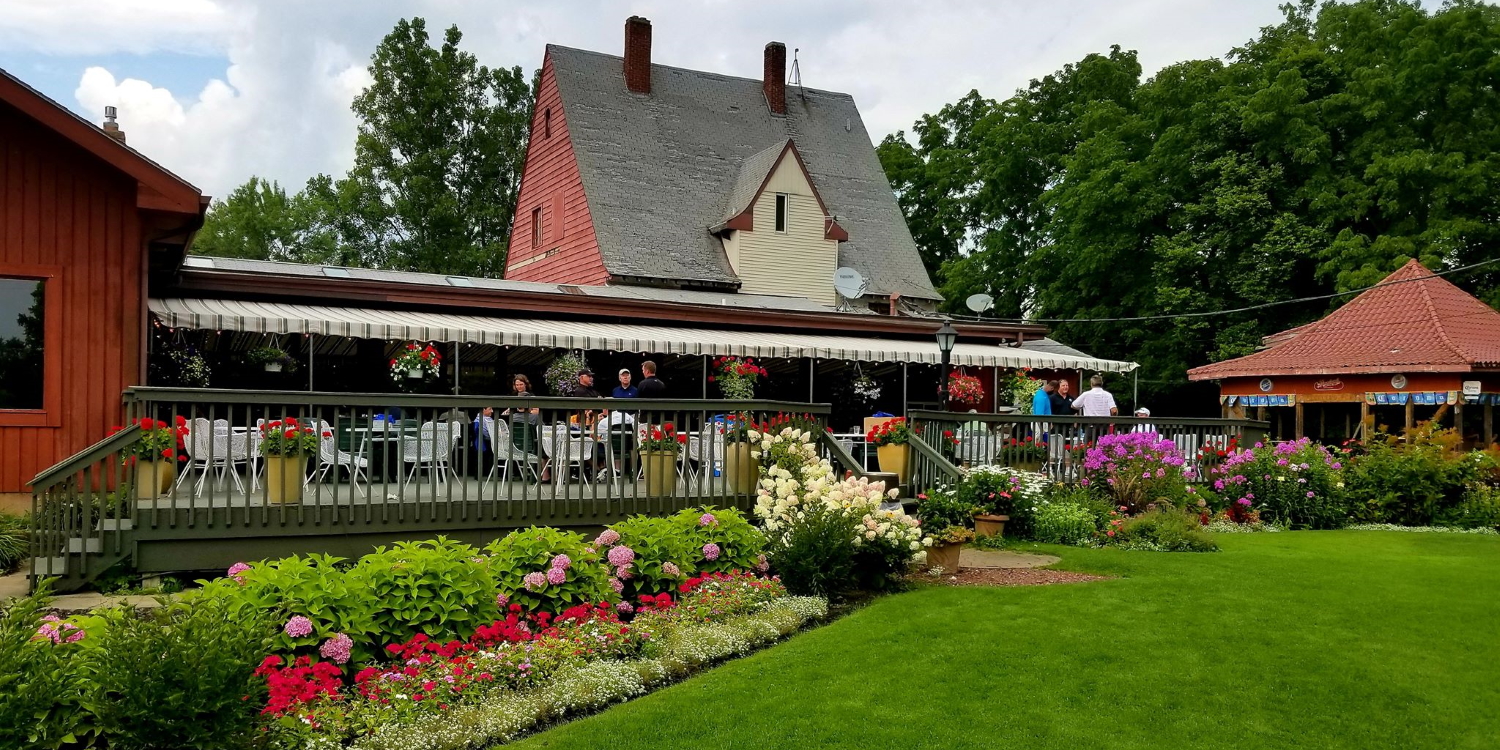 But perhaps the two things this course is most well known for are their near impossible Par 3's and the 19th hole outside bar (seen above). Three of the four par 3's at this course are over 200 yards and hole 18, is a 240 yard tee shot that most golfers don't have a club for, which makes for an interesting finish to your round.
But the real reason I keep returning to this course is because of their outside bar located directly next to hole 10's tee box. The pressure is at an all-time high on this shot thanks to the spectators, who place bets on whether you will hit the fairway or end up in the water along the left side of the fairway. For anyone who has played this course, you know how cool this set-up truly is and it's the closest thing you'll ever experience to the bright lights a PGA golfer experiences in a tournament.
9.) Fountains (Clarkston):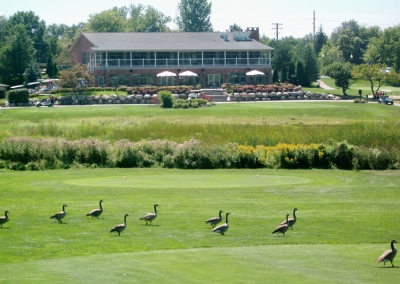 I was recommended to play this course by a friend and it was solid. The mansion styled clubhouse alone is worth the trip and that's not to mention the outdoor dining area that is perfect for a post round beer with the bros. As for the course itself, it's a bit disappointing. When you drive up and see a clubhouse as nice as this, you expect the course to be reminiscent of Bethpage Black, not Dutch Hollow. Sure, it's a nice course that is fairly easy and fun to play, but that doesn't mean you aren't a bit disappointed when you realize the clubhouse is a total facade.
However, that doesn't mean that I am not recommending this course, quite the opposite, actually. If you are playing well, you can score really well on this course and a few of the holes that are surrounding a pond in the middle of the course are some the coolest you will see in the lower part of the state. Is it worth the drive to play this course once? Sure. But is it super notable and worth the $50 price tag? Once a summer… yes.
8.) Owosso Country Club (Owosso):
This course is probably the single course on this list that I have the strongest feelings about:
OCC is the nicest course in Shiawassee County and it's not even close, but is it Augusta? Obviously not, right? Well the members and management seem to think it is.
Over the course of this past season, I played this course five times and for how secretive and "elite" this course is, other than maybe 3 holes, this course reminds me more of Glenbrier, than Augusta. I know, I know, I probably just offended half the people reading this blog, but the front nine is boring and other than the 2-3 holes that run along the river, this course is nothing to write home about.
The people who are members their put their nose up to golfers like me who prefer to wear basketball shorts, instead of the latest Justin Thomas line of Polo Ralph Lauren equipment.
The management are just flat-out jerks. For me to even step foot on the property this summer, it required my friend (who is a member) to bribe the workers there so that we could play, seriously… they think this course should host the next US Open, not Thursday night beer leagues.
I'm not saying the course isn't nice, because it is. The change of elevation throughout is awesome and the up-keep is unmatched in the area. There are also two holes that will take your breath away on the back-nine: One par three that runs perpendicular to the Shiawassee River, featuring a tee box about 200 feet above the green, which sits at the bottom of a cliff. Another par 4 (along the river as well) has a blind green that is on such a steep incline, you can't drive a cart up the hill without tipping and idea of trying to walk up it, would make Jerry Rice sweat.
Overall, this course is very nice, but the elite "members" and absurd $65 price to play are enough to turn off the casual golf fans.
7.) Hawk Hollow (East Lansing):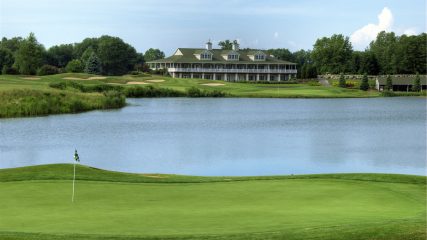 Hawk Hollow is everything you want in a $50 course. It's tough, has incredible scenery, a great clubhouse (with a putt-putt course), and a final four holes that rival Amen Corner at Augusta and feature a US Open final hole with the gigantic "plantation" style clubhouse behind the green.
This course humbled me the first time I played it this summer, but it's not a course that is so difficult that it ruins the fun. It's the perfect mix of difficult holes with tons of trouble and easier holes that give you a chance to make birdies and feel like a PGA pro.
Although this course doesn't get the same recognition as it's sister course, "Eagle Eye", it's still well worth your time and the last four holes alone are worth the $50.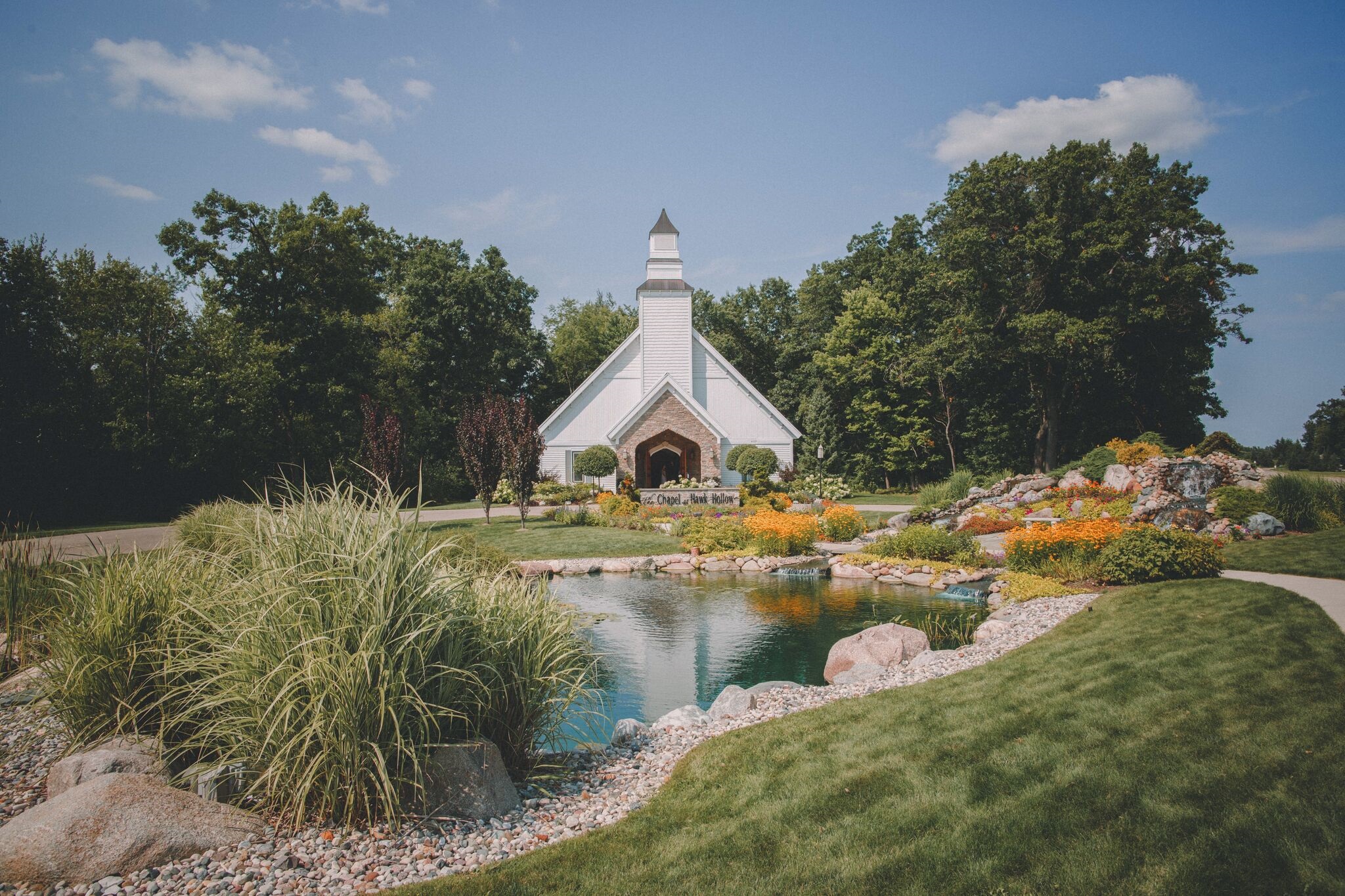 6.) the Links at Hunters Ridge (Howell):
This course is flat out wild. It's unlike any other course you will see in Michigan and it's the closest you will get to the true links-style golf courses in Europe. It's honestly like they took soil samples from St. Andrews and transported it to Howell and manufactured Hunters Ridge. I love this course and it is always one of the first I recommend to people due to the oddity of a course with minimal trees.
That doesn't mean that this course isn't difficult however, it's actually fairly difficult and if your driver is sporadic that day, you are going to post some big numbers. One of the most interesting parts of the course is a 3 hole stretch that is built on a swamp of sorts and requires a wooden walkway in between greens and tee boxes.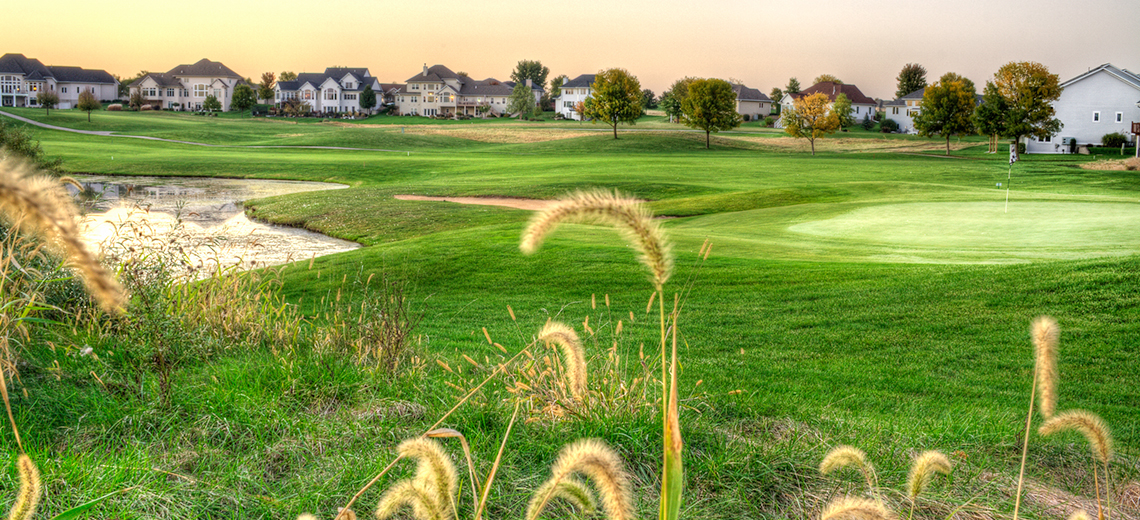 To put it lightly, this course is a must play for anyone in need of something new and the "Lincoln" log clubhouse is the cherry on top – It's perfect for winding down after a round or watching an entire Saturday of college football.
5.) El Dorado (Mason):
El Dorado, or "Streets of Gold" in English is a spectacular course (Okay, I admit it. The name has a huge part for its high ranking) that is the living, breathing definition of a bomber's paradise. It's a really long course with numerous holes completely enclosed in a forest, but it also features a lot of wide open tee-shots that your driver will love.
Granted, the last time I played this course was 7 years ago and a lot of the in's and out's of the course have escaped my memory. However, this course still holds a special place in my heart despite my horrendous score of 105, the last time I played there… It was 7(!) years ago, shut up!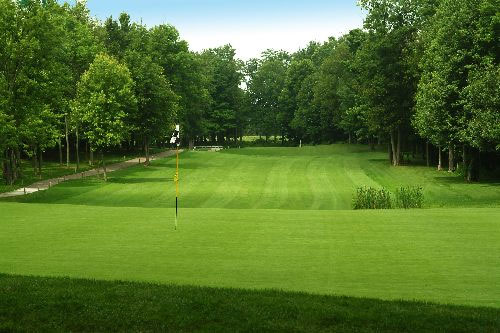 I mean, it's literally called "Streets of Gold"… Do I need to say more? Get to Mason.
4.) the Emerald (St. Johns):
This course has a serious argument for my favorite course of all time, but where the course lacks is scenery (due to its location in the middle of the farming town, St. Johns) and for me, that's the main thing that draws me to courses. But outside of that, this course is top-notch.
It's always in pristine condition and the atmosphere is more like a bowling alley than a country club, with outdoor bars, bonfires, and an incredible venue for weddings. It's also not overly expensive and the closeness of the holes and fairways (don't worry, if you slice/hook your tee shot you can just play out of the neighboring fairways) remind you more of your local golf course and less of the tree-laden golf courses in the U.P.
The course also has a "cult-like" following of friendly members who swear by this course and for good reason; The Emerald is the perfect all-round course, but the part that takes it to the next level are the greens. THEY. ARE. LIGHTNING. FAST. No really, the "Stimp" meter (a scientific test courses use to test the speed of their greens) at the Emerald is higher than most U.S. Open courses, which makes for a fun challenge for the everyday golfer. For those who have never played there, grab a golf ball out of your bag and your putter… Then start practicing on your hardwood floor — That's how fast they are and that's the only way you can prepare. Oh and did I mention the cart girls?*
*Am I allowed to say that? No? Okay, sorry. I mean't Cart-Women.
3.) Coyote Preserve (Fenton):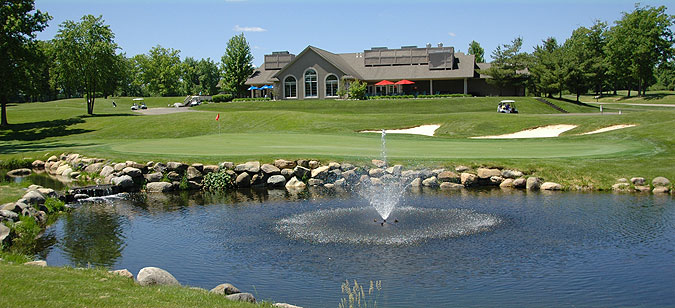 In terms of flat out scenery… this course is on another level. It's not very well kept and some of the holes are total bullshit, but for everything this course got wrong, one thing it didn't was the location. There are 4-5 different tee-boxes and greens that will completely take your breath away with it's beauty. I'd describe this course as the perfect course to maybe just walk around instead of actually playing. Believe me, you'd still be entertained just taking a walk through this course, that's how beautiful it truly is.
As I mentioned above, the course does have some issues with dead grass and lackluster conditions, but it's still better than your average track. But perhaps the best part of this course is the wildlife you encounter; During my round there I saw countless deer (usually waiting in the fairway while we are about to tee off), birds (even some weird long-legged ones that I have never seen in Michigan), coyotes, turtles, and much more. It wouldn't surprise me if this course doubles as a wildlife preserve for scientists to study animals from the midwest.

To summarize, this course has serious potential to be one of the best courses in the midwest if it was taken care of, but despite that, it's still one hell of a course that will impress even the biggest hard ass in your golf group.*
*I almost forgot, there is also a house there on the course that has a literal waterpark for a backyard, I'm not joking 😂.

2.) the Majestic on Lake Walden (Hartland):
This course is everything that Coyote Preserve is and it's also incredibly well kept. The golf carts are worth the $50 cost themselves, with Masters trivia keeping you entertained in between holes and "fun facts/advice" about the course that help first time players score well.
I can't recommend this course enough and one hole in particular, is something out of a movie. Hole 12 places you above the rest of the course/forest and gives you a full view of the surrounding lake and clubhouse. It gives me chills just thinking about how perfect of a sniping spot this would be.
The Majestic is also perfect for golfers who want to be immersed in the outdoors and separated from the rest of civilization. I love it. As soon as the starter sends you off of hole #1, you are by yourself until the hole #18 green and courses like that in the lower peninsula are hard to find.
Located in Hartland, the Majestic is everything you want in a golf course and I can't recommend it enough. If you love golf and are in driving distance of this course, go! It's that good.
1.) Black Lake (Onaway):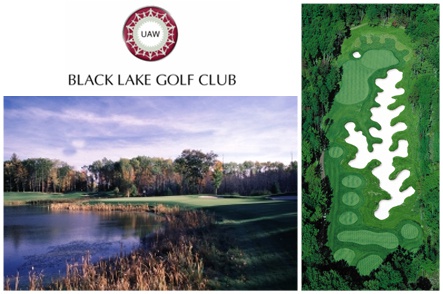 I can't write enough about this course. It's far and away the nicest course I have ever played and it also holds a special place in my heart as the local campground, that has hosted my family reunion for over the past 30 years. I grew up walking this course (and getting kicked off), wishing I could play it and this past summer, I was lucky enough to play it three straight days… I was in heaven.
The course is just like any other "Up North" course, featuring beautiful wood-lined fairways and sights that you just can't replicate around here.
Black Lake makes the hard man humble, with narrow fairways and absurdly long holes that even Bryson would struggle with (I think). It's actually widely regarded that this course is the second hardest course in the state, behind Oakland Hills South, which is set to host the US Open in 2029.
Black Lake is in the middle of BFE, but as soon as you see the beautiful clubhouse with one hell of a patio, you are transported to a golf paradise that everyone can enjoy.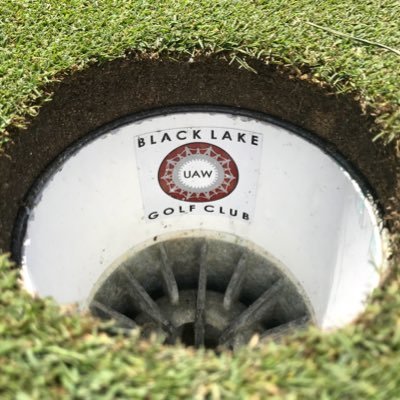 The course has everything you could want in terms of difficulty, privacy, condition, scenery, and fun. It's an almost impossible combination that this course has somehow achieved and in my opinion, this is the nicest public course in the state, which is crazy when you consider how unknown this course actually is. It's the definition of a "hidden gem" and if you ever find yourself in Petoskey or Boyne City, do yourself a favor and make trip to Onaway and play Black Lake, you will instantly fall in love.
And if you ever want to test yourself on a PGA level course or you simply want to shut up your friend who thinks he's a scratch golfer, this is the one.