One of my favorite month's of the year is upon us. I say this rather selfishly, my birthday, March Madness, the early feeling of Spring, sometimes a spring break, March really is a great month for myself!
However, this is about something much more important… PIZZA TOPPINGS! This stuff gets my cholesterol flowing!
After Ben's last Cruisin' Altitude Episode 30, guest Seth Schafer explained that he loved our original pizza bracket, but that it upset him based on what toppings were matched up, what the winners ended up being, and so on.
Now, we are much more "legit" as a group (speaking on both Fatstacks and Scrambled Legs). I have sunk slightly more time into the creation of the bracket, utilizing total numbers, looking at match-ups, and trying to create a fantastic few days of thinking about calories in plenty!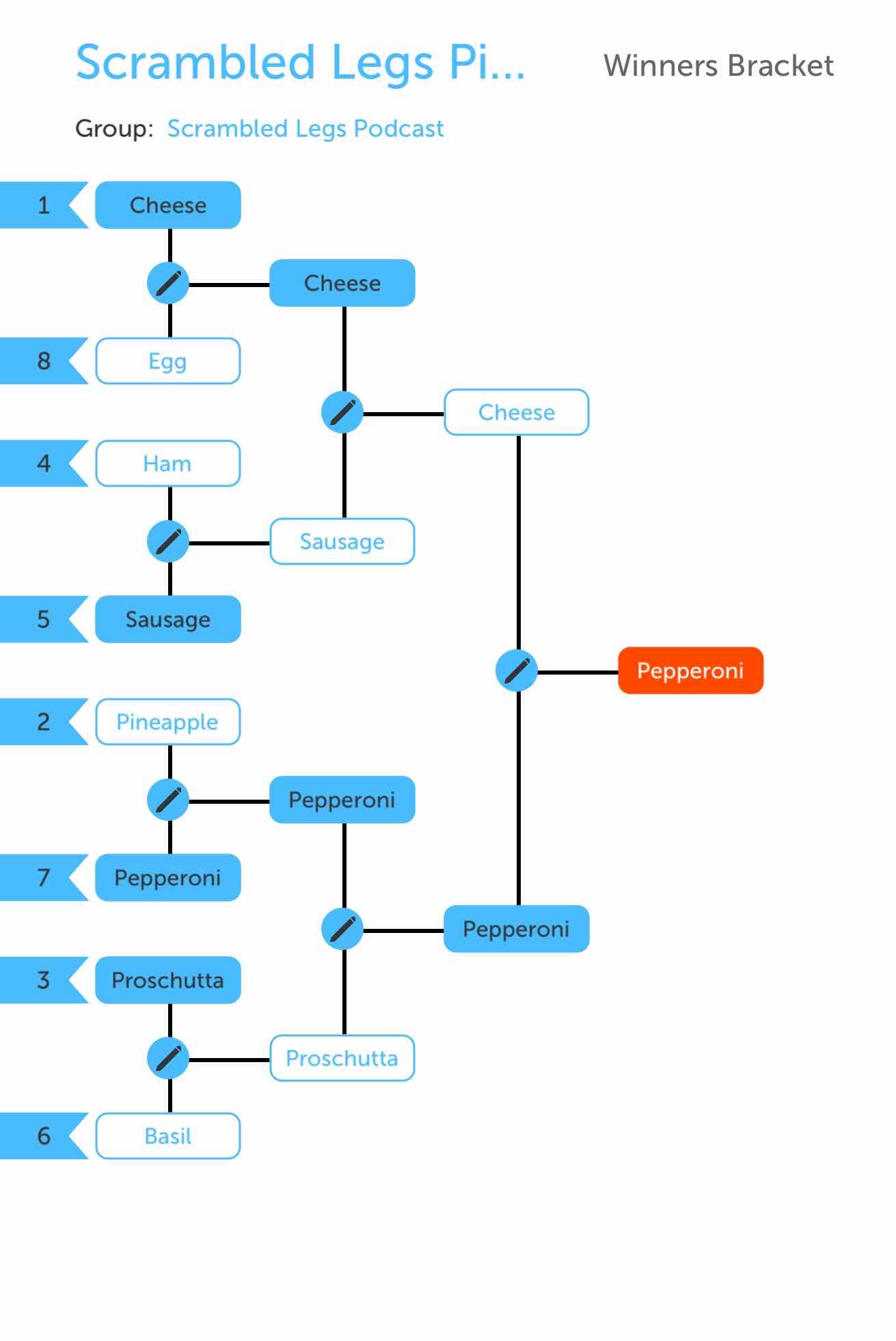 Here is what I did to tidy up the bracket this time around:
I added all of the votes on the podcast to create tiers of where toppings fall based on votes. I have cut off all toppings after last weeks podcast, so tomorrow (March 4th) will not feature any of the consideration for the bracketology. I also combined a few toppings (chicken, BBQ, buffalo, regular, all one) and eliminated a topping (dog treats was said by Hundo, of course it was).
This breaks it down to 20 toppings that will advance. To excite you, I will list which topping falls into which tier!
Elite Topping Tier (Required 6 Votes)

: Pineapple, Pepperoni, Sausage, Cheese

Mediocre Topping Tier (2-5 Votes)

: Ham, Egg, Basil, Black Olives, Bacon, Garlic, Chicken, Banana Peppers, Green Peppers, Onions, Mushrooms

Well That's Different Topping Tier (1 Vote):

Tomatoes, Spinach, Green Olives, Jalapeno, Cinnamon
The Elite Topping Tier will be receiving facing off against a play-in game of toppings, once the play-ins occur this will become strictly a "Saucy 16"!
The bracket will start right off the back end of our boy "DJ Boogie the Disco Kid's" Musical Training plan for March!
When the heck is that Noah? Oh, let me tell you. Play-in games will begin on Sunday 3/14/21 followed by the Saucy 16 on Monday 3/15, the Exceptional 8 on Tuesday 3/16, the Fresh 4 on Wednesday 3/17, and the Customer's Champion on Thursday and Friday 3/18 and 3/19!
Be sure to share the bracket, to indulge yourself in some pizza, and make fun of me for likely creating some blunder with the bracket in those few days!
Be sure to check us out on SoundCloud, Spotify, or go find us on Apple Music!
Thanks again for 10,000 SoundCloud plays, the rising number of Spotify streams, and the social media support!
Go on and have yourself a FRICKIN' DAY!
-Noah Jacobs