Wowee what a transition. I mean honestly, yesterday's album was a Johnny Cash record, and the first song on today's record is a duet between Johnny Cash and Bob Dylan, it doesn't get much better than that folks.
Today's album, Bob Dylan's Country-Folk-Rock effort from 1969 titled Nashville Skyline is far from Dylan's finest work, but it fits the bill for this month's theme like a glove. Written in Nashville, about Nashville, and titled after Nashville, it makes for a perfect location to visit on our little vacation here.
Nashville Skyline is a unique record within the Dylan discography in that it is, first and foremost, country music as opposed to his signature style of folk-rock. The commercial and critical success of this album would pave the way for subsequent country-rock acts throughout the 70's, most notably The Eagles. Interestingly, Dylan would later say that when he was left alone to play music just for the fun of it, this was the style of song he would most often end up playing. The lack of lyricism or commentary in this record mean that Dylan gave us a lot less to take away regarding the big picture, but this record might have given us a better look at the person behind the music than any of his prior albums ever could.
Nashville Skyline is an extremely brief 27 minutes start to finish, and considering what the album is, that's just about perfect. Dylan's newfound country western croon colors the music in a way that Dylan's vocals never had before, and a collection of guitar heavy instrumental arrangements establish the musical landscape that will be showcased over the album's length. Dylan knows when to be slow and sentimental, and when to be upbeat and fun. Every track feels like country, but as with anything Dylan touched, it has that certain quality about it that really makes it his own. Far less grand, poetic, or revered as some of his other works like Highway 61 Revisited, Blond on Blond, or Blood on the Tracks, Nashville Skyline knows what it is, knows what it's place is, and opts to settle for just getting on base rather than swinging for the fences. What's so great about it though, is that the fact that it isn't trying hard to be great country record plays into its quality. This record, like most country, is pretty laid back and easy to listen to. It's perfectly what Dylan set out to do, and it certainly has a place in this month's Musical Training Plan.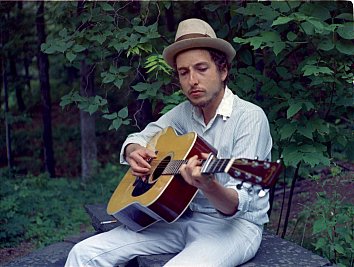 I will admit, the album isn't very directly about Nashville. It feels very Nashville and in many ways is an ode to a town which was very good to Dylan. Putting his own spin on the music most dear to a city very dear to himself, Bob Dylan's Nashville Skyline may not tell a story about Nashville or have grand Sinatra-esque songs about the beauty of the town, but in a very Nashville way, it subtly captures the essence of his experience with the town through music as opposed to just telling you flat out.
Here comes the part where I talk about what won the album. What puts it over the top and makes it what it is, and my choice may come as a surprise. Bob Dylan was such an incredible artist, one of the finest we've seen, but his singing ability was never anything to write home about. In fact, one of my personal golden boys David Bowie, in his "Song for Bob Dylan" describes Dylan as having "A voice like sand and glue." Dylan was a poet more than a musician, and this album is one of his least poetic. The instrumentals are awesome though, and I'm sure Dylan had a huge hand in that, but I can't just say "Bob Dylan wins his own albums" so I'm going to give it to the guitar work, specifically. The guitars on this album so effectively capture that country western style but still allow it to be a Bob Dylan record instead of just another country record.
So there you have it, the second stop of 7 on our musical road trip. Hopefully you enjoy today's pick and get your fill of that earthy, continental US goodness that comes with today's destination because tomorrow we're headed out over the pacific for a change of scenery.
Hopefully you will enjoy Bob Dylan's Nashville Skyline as much or more than I do.
Benny the Jet, will not be staying here with you.