We've reached the finish line everybody. After a weeklong musical journey through the ages we've finally come home to port. And what an album to sail into Teenage Dream is. A posterchild for the pop music of recent decades, Katy Perry's 2010 debut project Teenage Dream provides one of the most complete and purely entertaining pop album packages ever put on record. I have had so much fun this week with the first instillation of DJ Boogie's Musical Training Plan, and there aren't many albums I'd rather finish it off with than this one.
Teenage Dream starts off with 4 tracks that you are almost guaranteed to recognize and, at the time of release, asserted Perry as a force in the music industry leaving little doubt. 'Teenage Dream', 'Last Friday Night', 'California Gurls', and 'Firework' are 4 of the finest songs Perry has ever released and boy, oh boy, do they make it easy to get into this album. While it may be a lopsided album, frontloading most of the best songs and leaving the lesser known tracks to simmer later in the album, it still holds onto that energy and entertainment value for the entirety of the 46 minute runtime. A low point of the album comes in track 5 in the form of a less than subtle song about dicks which feels even worse coming off of the electric 4 opening tracks, but Katy bounces back, I swear. By the 7th track we've hit what may be pound for pound the best song on the album in 'The One That Got Away' which is followed by 'ET' and from there its all lesser known tracks which contain a surprising amount of thematic power and meaning. Long story short, it's a good album.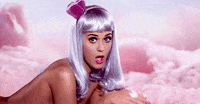 Unlike most pop records, when Teenage Dream is over, I feel like I'm able to take away a lot more from the record than just entertainment. Its an album about young love, about enjoying the moment, being confident in who you are, loving yourself before you can love anybody else, and moving on when a love ends. There's also that one song about cocks in the middle that kind of ruins it, but all in all Teenage Dream gets a passing grade in thematic coherence and musical messaging. The true joy of this album, though, is Katy herself. The singing holds up start to finish as Katy shows off her vocal talent, but her infectious confidence and energy is what takes it all to another level. The energy switches in subtle ways to accompany the thematic shifts between songs like 'Circle the Drain' and 'The One That Got Away'. Still, you don't need to trouble yourself with that artsy crap though. Teenage Dream is an excellent album to put on and just sit back and enjoy for 46 minutes. You can turn off your brain and enjoy it wire to wire, but if you want a deeper takeaway and choose to search for meaning and power like I choose to do, it's there for you.
However you choose to consume Teenage Dream, it will be an absolute joy start to finish. End of story. Bye Bye.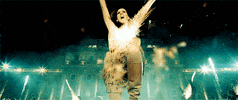 While pop certainly isn't my favorite genre, I do love this album. I genuinely enjoy every single one of the albums I chose to share with you this week. I loved doing this Musical Training Plan, and while it feels good to be done with he first one, I'm already putting in plenty of thought for next month. But until then, I hope you enjoy Teenage Dream, because baby, you're a firework.
DJ Boogie, hanging up the hat for 3 more weeks.