Alright everybody, pack it up, we can all go home now. Ben is officially lazy, I mean come on, he picked Thriller.
In all seriousness though, what do I even need to say here? Trying to convince a person to listen to Thriller is like trying to convince somebody that Michael Jordan is a great basketball player. I mean honestly, what do you want me to say?
How about that Mike was the King of pop and Thriller is his crown jewel? What if I remind you that Thriller is the highest selling album of all time beating AC/DC's Back in Black by a narrow margin of 15 MILLION copies? Maybe I just need to read off a few of the songs from the track list? 'Wanna be Startin' Somethin", 'Thriller', 'Beat It', 'Billie Jean', 'P.Y.T.'. Those 5 tracks alone make up well over half of the album's runtime, and the rest of them are pretty great too.
Look, you know it, I know it, Michael Jackson's Thriller isn't just any pop album. Thriller is THE pop album.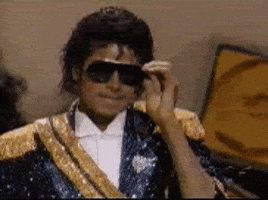 Michael Jackson was, famously, a perfectionist, and never was that truer than in the early 80's during the creation of Thriller. Legend has it that the title track alone had (potentially) hundreds of iterations and variations before Mike felt just right about it. In 1982, Michael Jackson blessed us with one of the most tightly crafted, well oiled, flawless pieces of entertainment to ever happen, ever. Not a moment is wasted, not a note isn't meticulously chosen, no word, syllable, or HEE-heee is without a well thought out place and purpose. Mike takes us through the gauntlet, too. Upbeat, funky, jazzy, spooky, sexy, fun, rockin', poppin', you name it Thriller's got it. True pop, some disco energy, a rock song featuring a legendary 1 take guitar solo from the one and only Eddie Van Halen (Rest in Power), R and B, love songs, hell there's even a track where Mike and Paul McCartney are just having fun with each other for 3 and a half minutes. And it's all done so well in only 42 minutes. If Thriller was a boxer, it would be Sugar Ray Robinson, because pound for pound, minute for minute, it doesn't get a whole lot better than Thriller.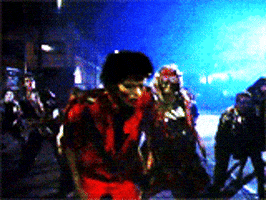 If I had to choose one aspect of the album that elevates it to greatness, I'd have to go with the attention to detail. Like I said, Michael Jackson was a perfectionist. Some artists can produce incredible and raw pieces of work through passion and talent, and Michael Jackson was incredibly passionate and talented, but he was also a master craftsman and one hell of an entertainer. Nothing can ever be truly perfect, but compared to what Mike probably envisioned for Thriller, I'd like to think that what we got is about as close as a person can get.
But don't take my word for it.
If you've never listened to Thriller before, c'mon, what are you doing? Do it now! If you are familiar with the record, consider this a great excuse to listen to it again. And as always, I hope you enjoy yourselves.
Bennie Jean, is not my lover,
See ya tomorrow.