Today we dropped our 34th episode of Scrambled Legs Podcast (once a week for 34 weeks, ima pat myself on the back a little)!
This episode was a ton of fun, very informative, very natural and we will likely see Jack and Devin again very soon (eye emoji).
This podcast began to stir my competitive juices again and also my pizza eating juices.
I haven't had any pizza in quite some time now, and I think that needs to change very soon. Very soon.
In the best way I could combine pizza and competition, I figured why not run another bracket at the end of the summer season before school to excite people about unhealthy eating and remind the listeners of a statement of the podcast!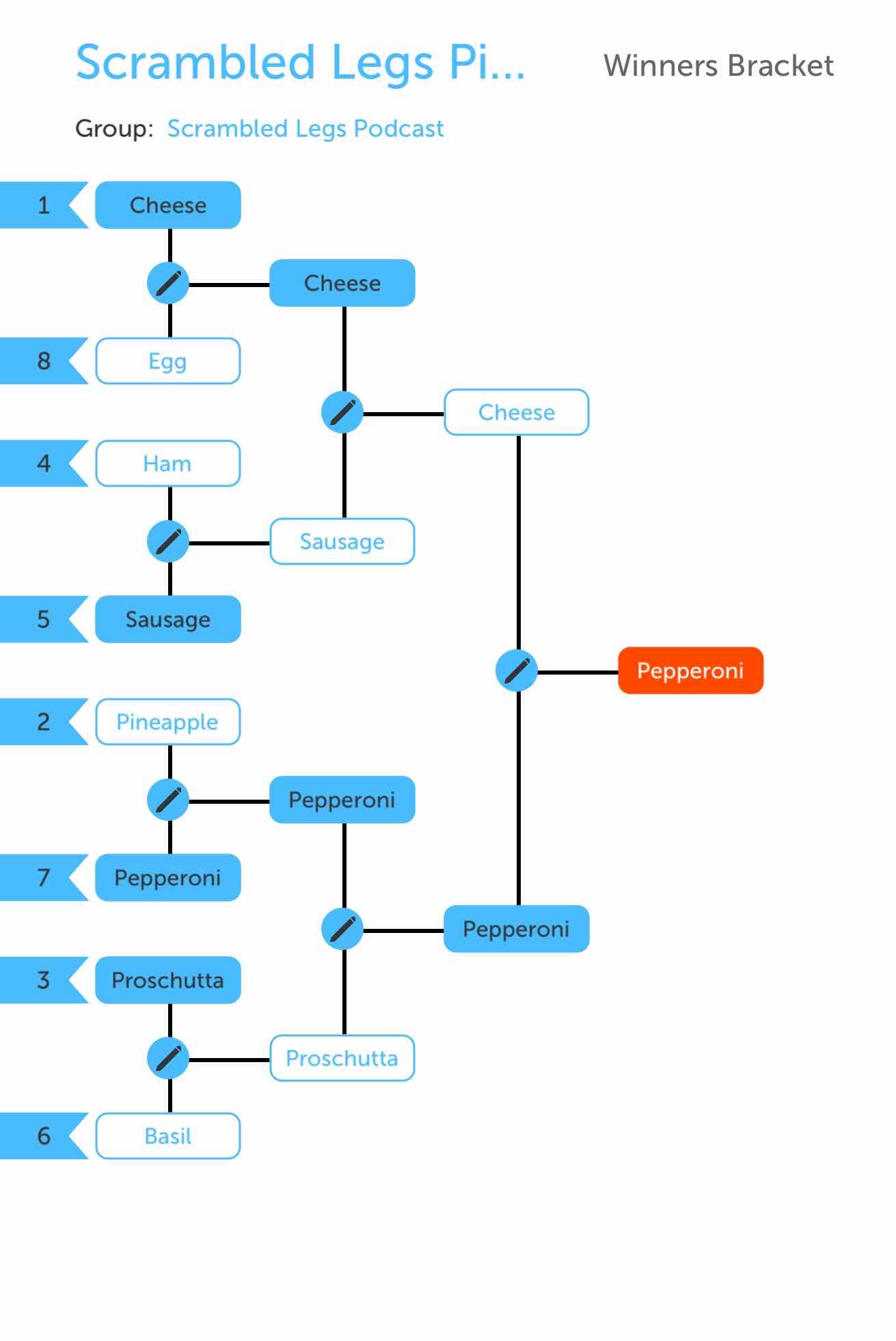 In March, I was lazy and created a bracket with a random seed generator and we came to a rather popular outcome in pepperoni beating out cheese as favorite topping in the final.
Now, we have many more pizza topping options, and a bracket that could bring some huge upsets, and create a pretty glorious pizza.
By the end of it, I will have a 3 v 4 game as well to determine on a large 3 topping pizza, what Scrambled Legs has decided those 3 toppings should be.
The plan would be to allow of the 18 different toppings to weed themselves out into a finale on Labor Day!
The play in games today (Thursday), the Saucy 16 on Friday, the Electric 8 on Saturday, the Fat 4 on Sunday, and the Topping Title and Consolation Game on Monday!
This time I took the effort to look at the list of favorite pizza topping from all of the podcasts (that is a list for myself and Ben to see… maybe the bloggers and Cousin Tom too).
I took the previous bracket into consideration and that is part of why pepperoni and cheese hold the top 2 seeds and again have the best odds at making the finals.
However will there be any toppings that do not dance (get ordered maybe) for as long as expected?
Who could be the underdog topping and make the run all the way to a specific kind of pizza on the menu itself?
What toppings will make the end of the bracket pizza that I plan on ordering the day after labor day?
Really that is for you to decide!!
If I was Vegas, and I was making the odds, here is what I will be betting is on that final pizza.
The Defending Champ Pepperoni- +175
The 4 Seeded Sausage- +225
The Love it or Hate it Pineapple- +275
The Possibly Underseeded Bacon- +650
My Popular Sleeper Banana Peppers- +725
The UMBC Sleeper Pick Mushrooms- +1111
The rest of the odds will be made as the tournament progresses.
Very true Mr. Cowell, I can't wait to see what will happen next!
Who is making your 3 topping large pizza?
Who is making Scrambled Legs 3 topping large pizza?
Guess there is only 1 way to find that out!!
Keep Getting Better! Stack by Stack! Slice by Slice!
Let's get greasy!
-Jacobs